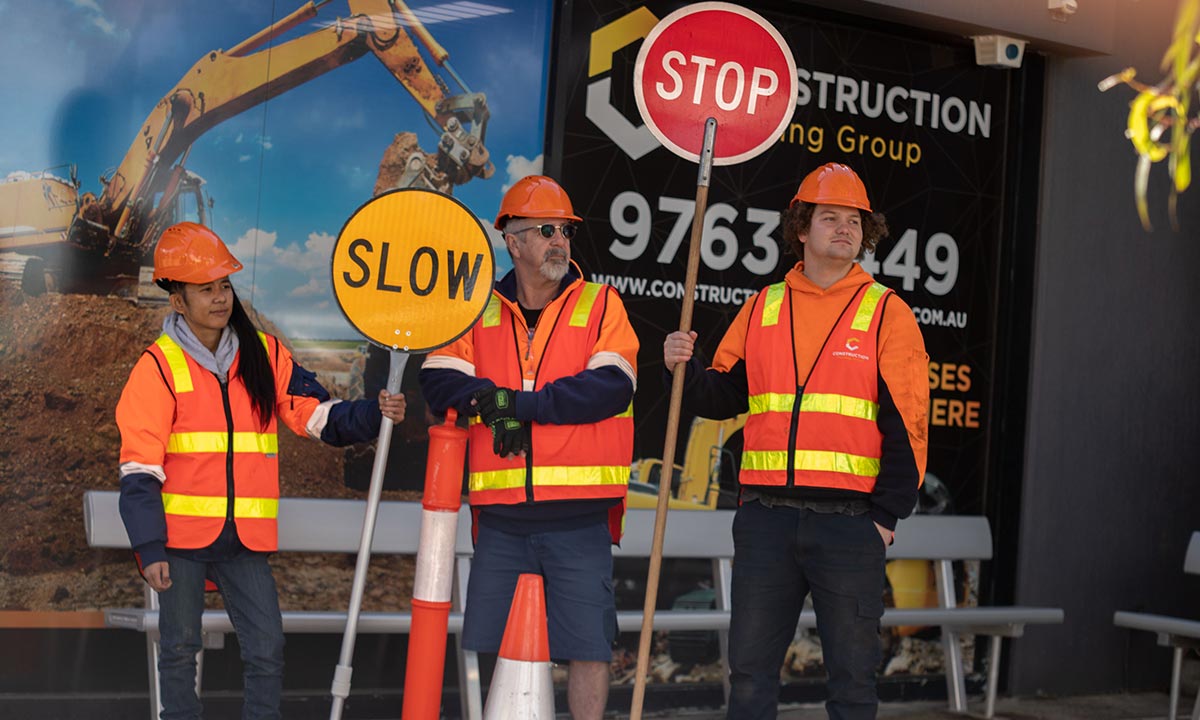 Traffic Control Courses in Melbourne
RIIWHS205E Control traffic with stop-slow bat
This Traffic Control Course in Melbourne addresses the competency required to control traffic using a stop/slow bat to ensure the safety of construction and maintenance workers, and the general public. In acknowledgement of the dangerous nature of controlling traffic VicRoads requires all field personnel designated as a Traffic Controller to have completed the RIIWHS205E unit, and to undertake a refresher course every three years.
Individuals seeking work as a traffic controller are strongly encouraged to complete White Card, Traffic Control and Traffic Management. Majority of traffic control companies require you to hold these 3 tickets prior to obtaining any employment as a traffic controller.
Prerequisites for traffic control
There are no prerequisites for this course.
Selection Criteria
We require you to have a Construction Induction (white/red card) to enrol for this unit. We run two courses for candidates with a minimum of three months industry experience and candidates with less or no industry experience.
Participants must be able to converse and comprehend basic English. Participants will complete language, numeracy and literacy assessment on course commencement to assess their capacity to meet language requirements.
It is highly recommended that you also complete RIIWHS302E Implement traffic management plans to obtain work in the Traffic Control industry.
Key course information
– Overview of OHS roles and responsibilities
– Site traffic management plans
– Hazard and risk management
– Principles of traffic controlling
– Working with road users
The training program involves attendance and participation in an 8 hour workshop. Each workshop is facilitated by a member of our highly experienced training team in Melbourne, and includes trainer presentations, small group work and practical activities – so your participation will be required! Assessment will require satisfactory completion of a written test and a series of practical demonstrations. A 4 hour refresher workshop is also available, and recommended every three years.
Course Duration
This traffic controller course is run at our Rowville training facility in Melbourne on a weekly basis. The course is a one day course.
This course can also be run off-site, on request of the customer. Minimum numbers do apply. Please contact one of our friendly staff should this be of interest.
Pre learning may apply. Contact the office for more information.
Traffic Control Course Cost
Pricing For Rowville:
The cost of this course is $170.00 per person.
(NOW $126.00 PER PERSON)
Pricing For On-site training:
For on-site training the cost is $200.00 per person.
Join our traffic controller course in Melbourne
We give real value to businesses
We are nationally accredited